As Americans spend more time at home due to the pandemic, technology use has soared. And curiosity about health and how to best take care of ourselves is top of mind.
Publicis Health Media is consistently monitoring the health landscape—especially when it comes to what types of content people are looking for—and has utilized organic search data as a way to look into the important moments for both patients and healthcare professionals, and how they have changed over time. There are big trends emerging due to COVID-19 that promise to have a lasting impact on healthcare.
The Rise of Telehealth
While the world as we know it has largely been on pause the last few months, our health has not. The healthcare industry has been forced to adapt by creating new solutions in the digital health landscape to keep care accessible.
Insert telehealth, a keyword that was searched on average over 300,000 times in April. And telehealth is much more than just a keyword: it is a part of the future of healthcare. Although telehealth and telemedicine existed long before the age of COVID-19, this event has resulted in a vast expansion of services and coverage of care. People are turning to their computers for health solutions. Telehealth as a whole is not only an evolving solution, but also the latest and greatest search trend in healthcare.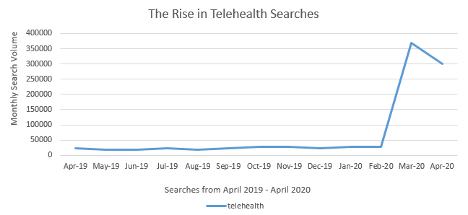 We took a deep dive into what people are searching for and what these insights tell us. Ultimately, how will the rise of telehealth revolutionize the way each and every one of us prioritizes our physical, mental and social well-being?
What the Data Says
Organic search data continuously changes but we saw a major surge in telehealth searches in March as COVID-19 cases grew and lockdowns were put in place. People had questions and the internet had answers. Although the searches went back down a bit in April, they have stayed quite high compared to the average amount of monthly searches. When we look at April 2019 data compared to April 2020, not only are the increases astronomical, but also reveal search moments that did not even exist at this time last year.
Telehealth has emerged as a prominent trend in all areas of health, but organic search data saw noticeable spikes in searches around behavioral health, dermatology and even occupational and physical therapy.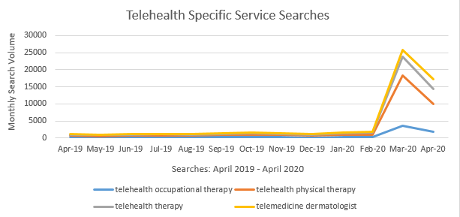 Although communicating with healthcare professionals through the computer has many challenges, it has also offered expanded accessibility and allowed people to keep up with their health from the comfort of their own homes. The majority of searches involve general information queries where both patients and HCPs are trying to familiarize themselves with telehealth—how it works, the benefits, how to access these services and whether or not their providers are offering it.
After general information searches, we saw an increase in searches around telemedicine companies including Teladoc, Doctor on Demand and MD Live. These platforms are providing services through different digital means and allow for convenient, fast and accessible care. There was also high interest around costs and coverage of services.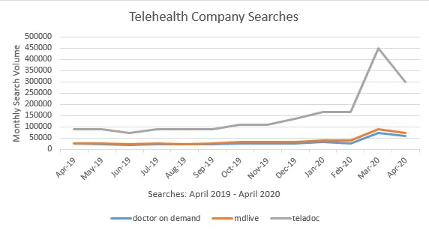 On the other side of the screen, the healthcare professionals are also engaged in this search topic, looking for billing information, consent forms and how to remain HIPAA compliant. Implementation of online health services has been important for many different reasons, but now more than ever, health professionals want to ensure that they stay connected with their patients while providing the same quality of care even through virtual means.
Telehealth for Mental Health
Mental health services were previously offered online, but are being emphasized during the pandemic. Web-based resources such as chat rooms, support groups and online communities have offered platforms for people to connect and talk about their experiences with mental health. May was Mental Health Awareness Month and it is important to note that healthcare providers are also making their presence known online as virtual therapy and psychiatry services were offered more frequently and became more widely covered through insurance.
Looking to the Future
Telehealth has the potential to re-shape the way the world looks at health. Because the nation was forced to adopt digital health solutions so quickly in this moment of need, telehealth promises to shape and evolve the health industry in new ways. InTouch Health projects an annual growth rate of 14.9% for the telehealth market from 2019 to 2026. With telehealth services expanding, the path is being paved for a new way of thinking about our well-being, along with potential reductions to healthcare costs and improvements in patient outreach and health outcomes. Consumers have options now, options that were not readily known or available prior to this new wave of health solutions. Only the future will tell, but it looks like telehealth is not just a temporary solution, but a new way of moving forward with healthcare.
---
Connect with Avery on LinkedIn
For the latest news and updates, follow PHM on Instagram, LinkedIn, Twitter, and Facebook.
Questions? Thoughts? Ideas? Contact us.