Omega Dyson, Nika Chugh, and Emma Keenan take us through a day in the life of a young social media marketer at HealthFront.

The HealthFront, a first-of-its-kind healthcare event that took place in New York City on July 16 and 17, was a collaborative effort brought to life by countless talented people across the Publicis Health universe — including Omega Dyson, a designer and AAE at MSLGROUP, Nika Chugh, a business development and marketing co-op at PHM, and Emma Keenan, a business development and marketing intern at PHM.

Omega, Nika, and Emma were HealthFront's official social media crew, teaming up to ensure that every exciting moment of the two-day event was recorded and shared across every social media platform. We sat down with them to talk about their experience at the event, the symptoms of "Tweeting Arm Syndrome," and the highlights of HealthFront.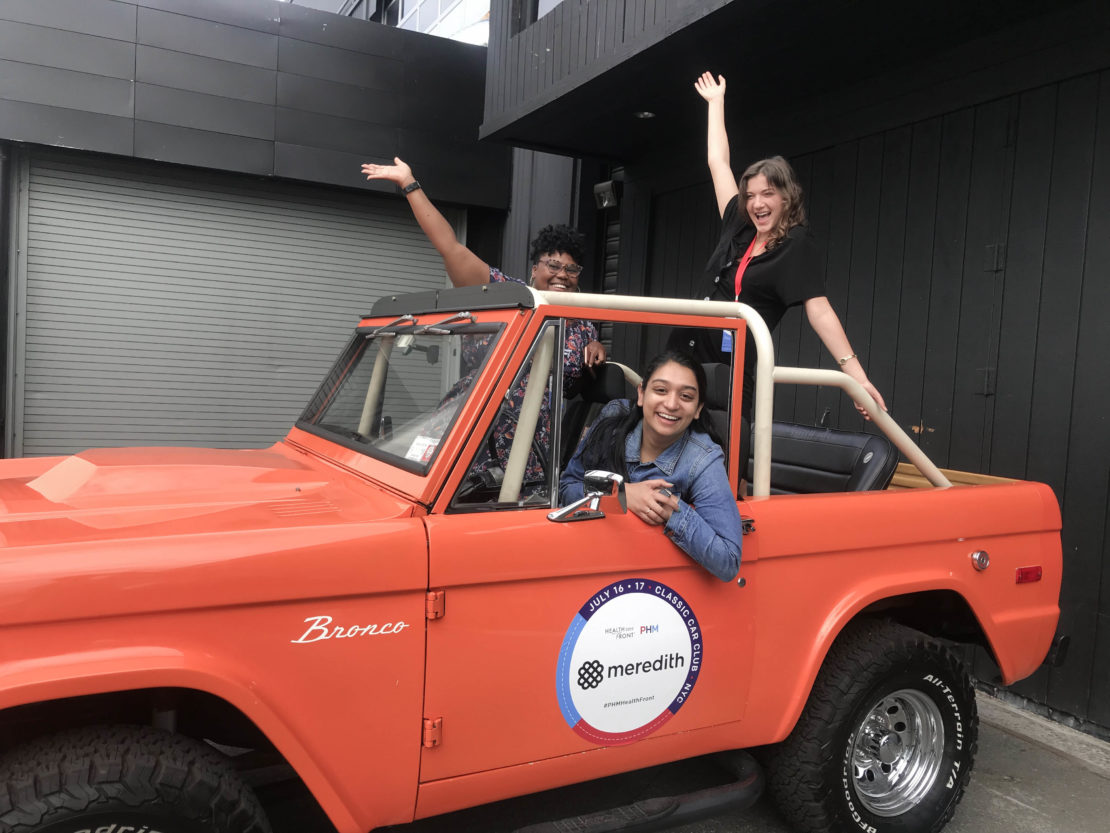 In your own words, what was the HealthFront?

Nika: To me, it was an event that revealed how health intersects with almost every other industry. A lot of the panels seemed to center around health, but also around the connections between health and technology, or health and media, so it was totally unique in the way that it placed healthcare in context — both in the context of the economy at large and in the context of people's lives.

At the event, I had four different people tell me that media events like the Upfronts and NewFronts really didn't touch on health at all. I think HealthFront showed that health as an industry is something that's integral to everybody's life and viewing it as totally separate from other industries isn't helpful or even truthful. Healthcare is a relatively new field for me, so HealthFront, more than anything, really brought home just how tangibly these conversations apply to my life.

Emma: Healthcare marketing tends to have the undeserved reputation of being a little boring or unglamorous — that's obviously not the case. This event highlighted all of the really cool things happening in healthcare. We had music, we had innovative companies, we had great speakers, and we had so many amazing, productive conversations. HealthFront, I think, helped to demonstrate how vibrant, how forward-thinking, and how important this industry is.

Omega: For me, it was an eye-opener. Usually, when people talk about health, it's very siloed — like, "This is health, it doesn't interact with any other industry." But at HealthFront, we really saw the tech industry, the publishing industry, the PR industry, and more all coming together almost like one big family to help solve important issues and try to move the industry forward.

Describe a day in the life of a social media marketer at HealthFront.

Emma: I think Nika can speak on this — ask her about her Tweeting Arm Syndrome.

Nika: Oh god — yes. I guess I have to work on my posture or something, but after tweeting all day, my left arm was killing me! I started calling it my "Live Tweeting Arm Syndrome" because I was typing so much that I was in tons of pain!

As for our day, each morning, the three of us would get together and review the schedule for the day. Before the event, Omega and Emma had created a spreadsheet that had all the social handles for all the speakers and all the companies that they work for. At the beginning of the day, I would just look at that spreadsheet, look at the agenda, and start pre-drafting tweets — that way, when a panelist was talking really fast but saying something interesting in every other sentence, I could just focus on tweeting those interesting insights instead of things like, "Here's the next panel coming up."

There were also a lot of other people posting about us on social media, so I also wanted to interact with them, too. That was a little bit of a hectic process, but it turned out to be okay.

Emma: Another challenging part was taking a 45-minute panel and choosing one tiny snippet for social media. You don't want anything on social to be too lengthy, but finding the most important part was really difficult when every panel was so interesting!

Omega: I really enjoyed the form of storytelling that we were able to do on social throughout the event — but, maybe even more than that, I appreciated being able to lean on these two women for support in that fast-paced environment. We had to have each other's back, proofreading each other's work and making sure nothing slipped through the cracks. We really came together as a unit.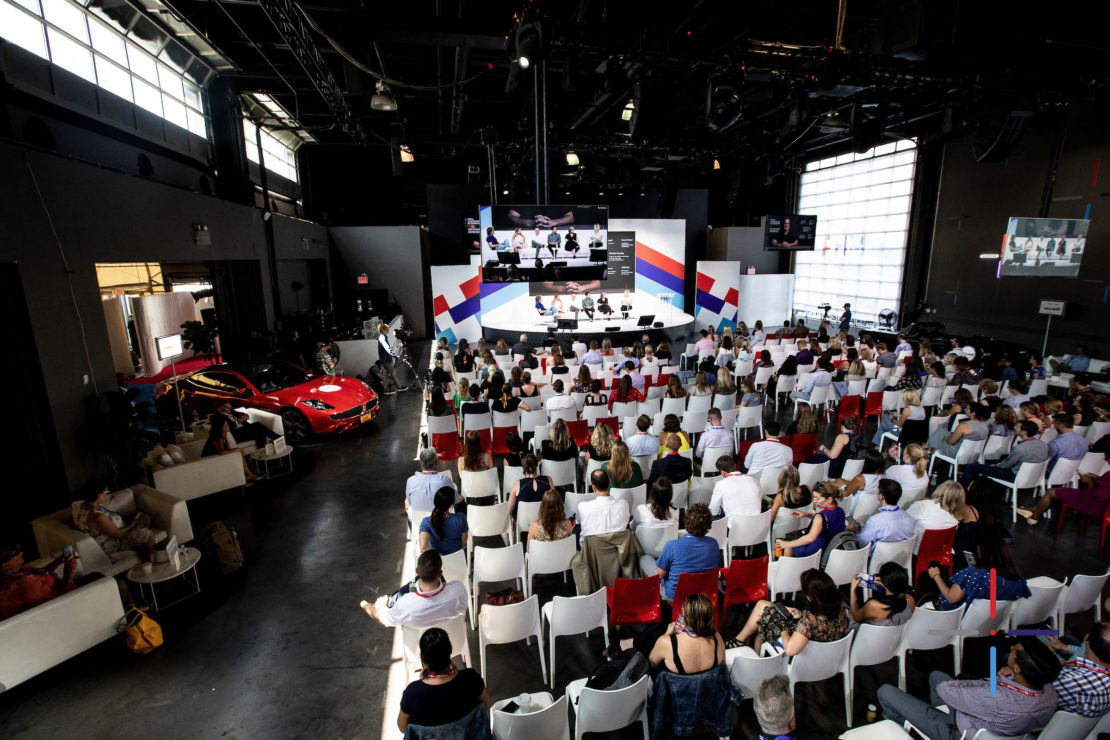 What were some of your personal highlights from the event?

Emma: For me personally, watching the Disruption Garage was exciting because I had been reading about these companies so much, and I felt like I knew them. As each judge would throw them questions and poke holes in their stories, I was feeling for them! I felt really connected to them. All of the companies were so awesome; I wanted each one to win.

I also thought the audience participation was great — we had 238 people vote, which was wild. It was a Tuesday night in New York City at 7 o'clock, none of these people had eaten dinner, they'd been at the conference all day, but they stuck around because they wanted to watch the event and vote.

Omega: The first personal highlight was seeing Brian Cooley — #mancrushmonday!
I adore his work on CNET. But also, the "Can You Hear Me Now?" panel on mental health was really impactful. It was great that the event wasn't limited to just physical health issues.

Nika: I think there were two panels that were my personal highlights. The "Badass Women in Healthcare" one was great, especially for the three of us as young women at the beginning of our careers. Hearing from really amazing women that have done a lot in their lives was so impactful. Same with the women on the "Doc with the Dragon Tattoo" panel. It was so empowering.

Favorite celebrity sightings?

Omega: Brian Cooley! Man Crush.

Nika: For me, it was Esther Choo. She was amazing!

Emma: Thobey Campion was really good too.

Favorite speaker?

Omega: Martha Stewart! She was a trip. I loved her.

Emma: Esther Choo was mine.

Nika: I liked Krishna Andavolu, the guy who did the 4:20 Series on medical marijuana.

Favorite car?

Nika: There was a cute little silver Porsche outside. I loved that one.

Emma: I liked the car we all took a picture in! The orange Bronco.

Omega: I liked the multicolored Lamborghinis outside — they all looked like Transformers!

If you had to put your life savings into one of the Disruptors, which one?

Omega: Medcorder.

Emma: I would have to say Validose.

Nika: Motiv! I want to buy one. The design is so sleek.
---
For a full listing of the events and speakers at HealthFront 2019, visit: thehealthfront2019.com.

To access the report on which our panel The Doc with the Dragon Tattoo was based, visit: condenasthealth.com.
---
For the latest news and updates, follow PHM on Facebook. Twitter, and LinkedIn.

Questions? Thoughts? Ideas? Contact us.