Healthcare is in the midst of a personal and technological revolution. Our involvement in our own health, and the technological advancements that fuel our knowledge about our health, have forever transformed how we think about our health and wellness journey. We've seen healthcare become more innovative, more customized and more focused on providing support when and where people need it. Consider our phones alone—more than half of America's 240 million smartphone users collect health-associated information on their devices, and 93 percent of doctors say mobile apps can enhance the quality of patient health.
Yet, while the health industry has been innovating and evolving, we've seen an inability to keep up in the media marketplace. For 15 years, I've been attending the media Upfronts and, more recently, digital NewFronts, where broadcast and media companies pitch and plan their programming for the coming season. And for 15 years, I've walked away without much to take back to my clients, specific to their businesses or unique challenges. Health has been conspicuously absent from the conversations happening within these forums, but ironically, has gone through more change than many other industries. And that change certainly breeds opportunity.
After all, what could be more ubiquitous to people's daily lives than their health and wellness? So, why is it that we aren't making health more central and accessible to the media spaces and platforms where people spend their time?
I felt unfulfilled, and I could tell our industry did, too. I knew there was more we could do for our clients.
Enter PHM HealthFront
This year, Publicis Health Media is launching the first-ever HealthFront, an event created specifically to connect our clients with our content partners, serving up the most relevant and in-demand health and wellness solutions that are in the market today and on the horizon. From emerging products and services, to the ideas that are driving real innovation and business opportunities in the healthcare industry, it can all be found at the HealthFront.
Over the course of two days, July 16-17, we'll be presenting a wholly original content series alongside a brand new entrepreneurial platform, the Disruption Garage, for our clients. At PHM, we are passionate about reimagining media's role in healthcare—and the panel discussions, fireside chats and keynote presentations we've curated exemplify that aim.
In Healthcare in TV and Pop Culture, we'll hear from executives at Viacom and ABC about health as a driver for new characters and storylines, connecting with audiences in new and meaningful ways. Generational Shifts: Millennials & Healthcare gets right to the core of one of the biggest realities shaping our world—that Millennials will soon represent the majority of the pharma industry's audience, bringing together leaders from VICE, Hearst and Conde Nast to discuss. The Doc with the Dragon Tattoo: From Paternalism to Partnership tackles the proliferation of influencers and marketing, and the undeniable effect it's having on consumer expectations.
These sessions are just the beginning. We'll be addressing public health issues and well-being on a community scale, patient data and how we delineate between right and wrong with its use, and the superhuman force of Artificial Intelligence and the possibilities it presents for healthcare. Every session is designed to build awareness and understanding around trends, issues, interests, demands and behaviors of consumers—all for the benefit of the brands with which we work.
Within the HealthFront, the Disruption Garage is another first-of-its-kind entrepreneurial platform created specifically for health and wellness startups. Submissions are in, the initial round of vetting is complete. At the event, we'll see our expert and celebrity judges—Dr. Oz; Martha Stewart; Natalie Schneider, vice president digital health, Samsung; Ryan Olohan, managing director, Google Health; and Brian Cooley, editor-at-large, CNET—in action as they live-jury finalists and select a winner. We recently announced the awards package $1 million valuation, offering a suite of goods and services providing everything a startup could need to make its big idea a reality.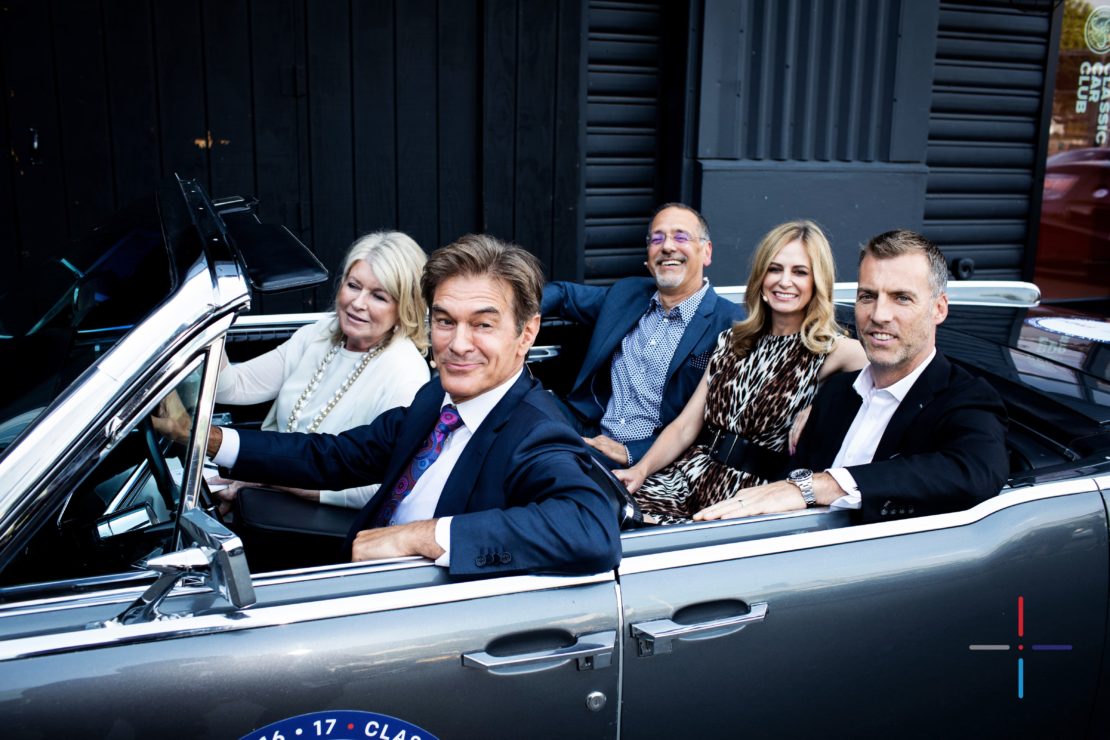 And as for media fronts of any kind, HealthFront offers exclusive partnership opportunities never before seen by our clients, or industry. We have HLTHQ in partnership with Nativo, a new data and insights platform to help brands measure effectiveness of their assets in-market, and the editorial content or brand narrative that truly affects healthcare behavior change. Our MAKER Series will help companies create compelling content and audience-specific products, spanning podcasts to original series with partners like iHeart and Viacom. A main goal of the HealthFront is to connect our clients with first-mover opportunities they can activate on, and that's what we've orchestrated.
The reality is that healthcare as we know it has evolved, and media must be reimagined in the same way. At PHM, that is our ambition, and as the largest health and wellness media company, we are leading the way in this evolution. We're tapping unexpected but undeniable connections between audiences and brands, and we're surfacing the new channels, strategies, technologies and solutions available.
We have a guiding tenet at Publicis Health Media: We Choose Health. PHM HealthFront is the choice for healthcare innovation today.