Earth Day allows us to recognize the incredible surroundings we sometimes take for granted. For the people who call Philadelphia, New York and Chicago home, it's easy to forget there are incredible spaces right outside our front door. So we asked three of our people to share the activities they most look forward to as the seasons change.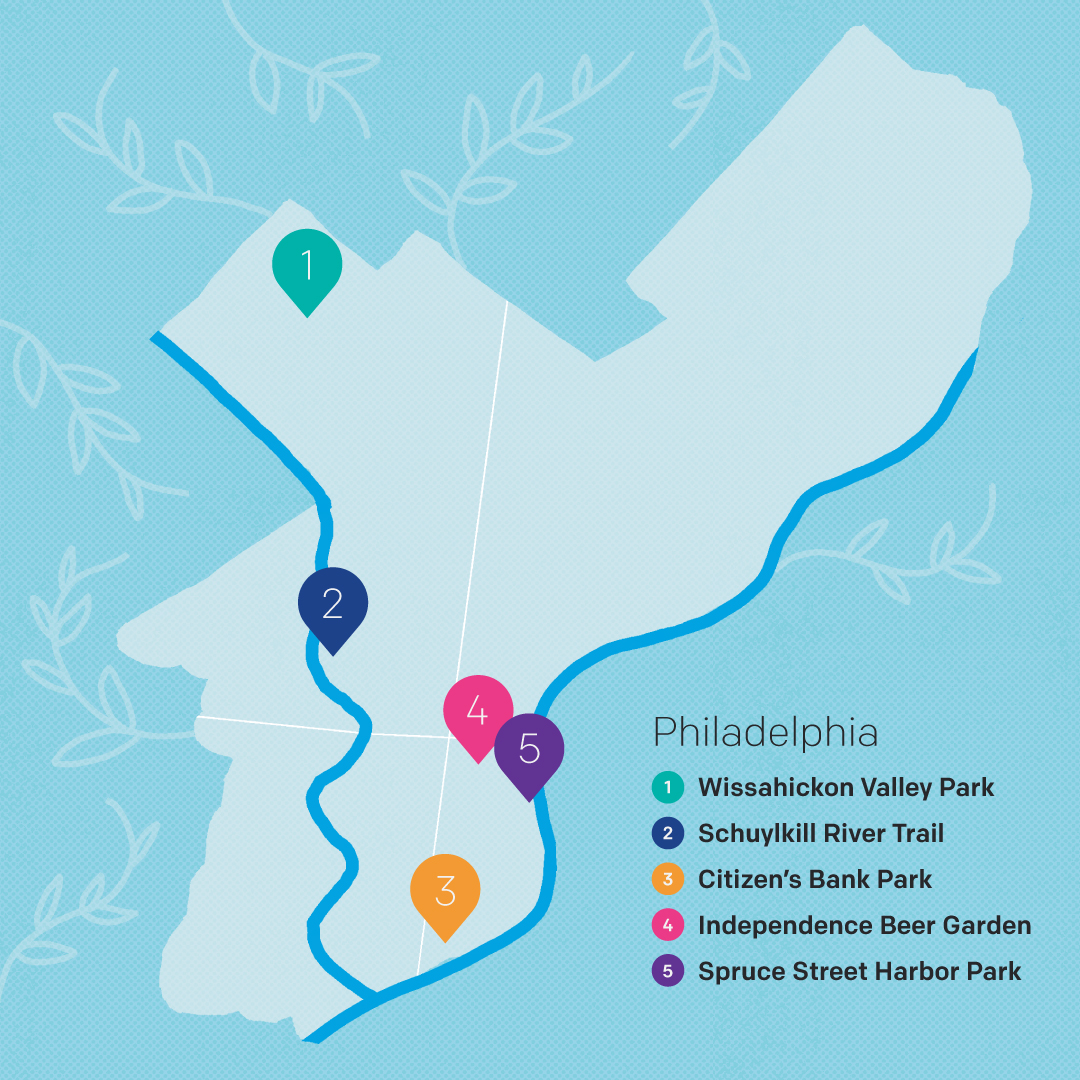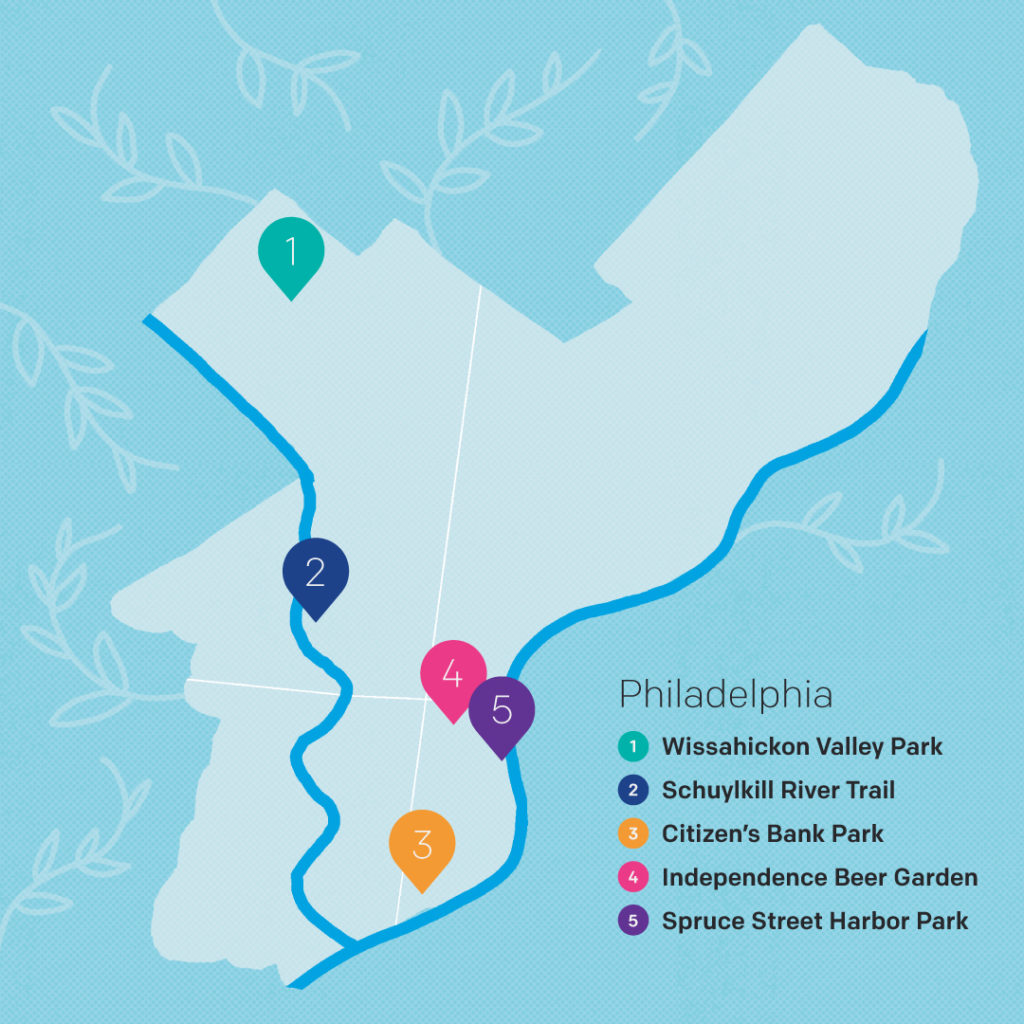 Philadelphia, by Media Technology Senior Analyst Ellen Dooley:
Wissahickon Valley Park Trails – Getting out of the city for some fresh air is super important and the Wissahickon Trail is one of my go-to spots when I need to escape city life and go on a hike. You can find a list of major trails HERE, while I personally like the Forbidden Drive Trail.
Schuylkill River Trail – If you don't want to leave the city for some outdoor time, the Schuylkill River Trail is a great spot for a run, walk or bike ride. If exercise isn't your jam, it's equally lovely for a picnic or watching some regattas.
Citizen's Bank Park – The Phillies are a big deal in my house, so I'm very excited that Citizen's Bank Park is open again! Whether you are a Bryce Harper fan or just like a good hotdog, there's something for everyone when you go to a Phillies game. COVID protocols are in place, and the Phanatic even has his own mask!
Independence Beer Garden – My favorite place to grab a drink when it's nice out is Independence Beer Garden. They have it all – beer, wine and cocktails. What more do you need? Follow @phillydateideas (run by PHM's very own Manisha Gamble!) for more fun food and drink spots in the city.
Spruce Street Harbor Park – Great food, great drinks and good times are always had at Spruce Street Harbor Park! This place holds a special place in my heart because this was where my fiancé took me on our first date, so love is always in the air. There are plans for the park to open this summer, so be on the lookout for updates and check out the Blue Cross RiverRink Summerfest right next door.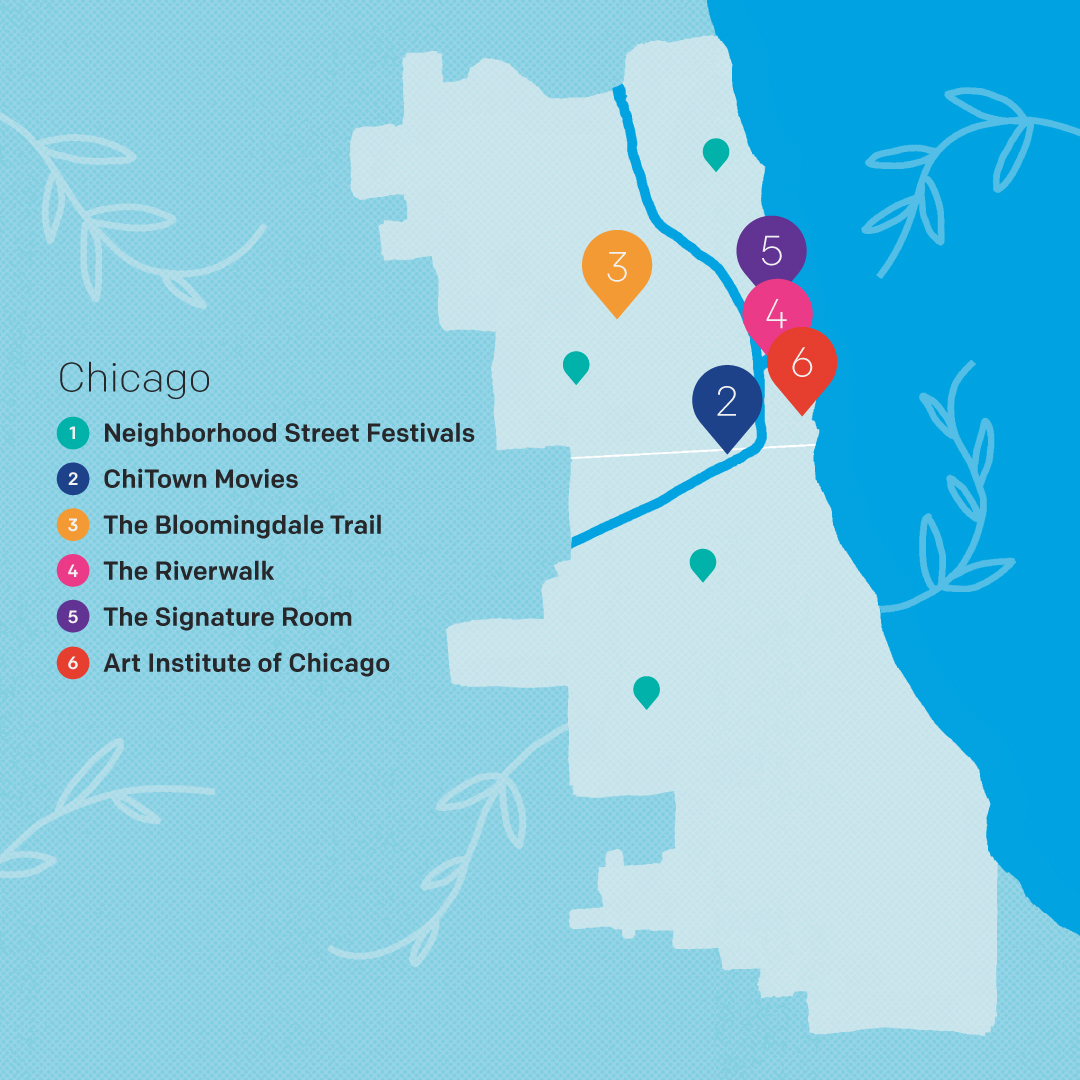 Chicago, by SVP of Media Jaime Morelli:
Neighborhood Street Festivals – Every weekend in the summer, another neighborhood (or three) closes off a few streets to make way for a festival. My husband likes to sample beer from local brewers, while I enjoy sangria and an arepa before perusing the art, jewelry and clothing for sale. While the most well-known venues get the most press (Renegade Craft Fair), it's the neighborhood fairs (Andersonville Midsommarfest, Argyle Night Market) that offer a window into the unique locales that make Chicago a "city of neighborhoods."
Enjoy socially distanced evening entertainment at ChiTown Movies in the Pilsen neighborhood – a drive-in movie theater that lets you enjoy a cult-classic flick (think Mean Girls and Friday the 13th). They will even bring food right to your car.
The Bloomingdale Trail, aka "The 606," is almost three miles of elevated walkway through four neighborhoods – Wicker Park, Bucktown, Logan Square and Humbolt Park. Bikes, strollers and scooters are all welcome.
The two branches of the Chicago River snake through the city and make its beautiful modern and historic architecture easy to view, especially from the super-touristy but totally worth it Architectural Boat Tour. If you'd rather stay on land, the Riverwalk in Streeterville gives you the same views without a life preserver, and with the added benefit of being able to pop into any restaurant or bar that catches your eye along the way.
The best view of Chicago – especially on a clear night – is from the women's bathroom of The Signature Room, the swanky bar at the top of Hancock Tower. Not to worry guys, the rest of the bar offers amazing views, too. Bypass the line to the observation deck by going straight up to the bar, where you can order a pricey beverage and look out on the city below. And if it's a night for fireworks at nearby Navy Pier or elsewhere along the lakefront, you get a view of pyrotechnics from above!
Chicago is a city for art-lovers. In addition to enormous, site-specific outdoor sculptures by Picasso and Calder, the Art Institute of Chicago is currently hosting Bisa Butler's first solo exhibition this summer. Butler's art is created through fabric and thread, resulting in intricately detailed portraits that have to be seen to be fully appreciated. Stop into the AIC when you need a break from the heat.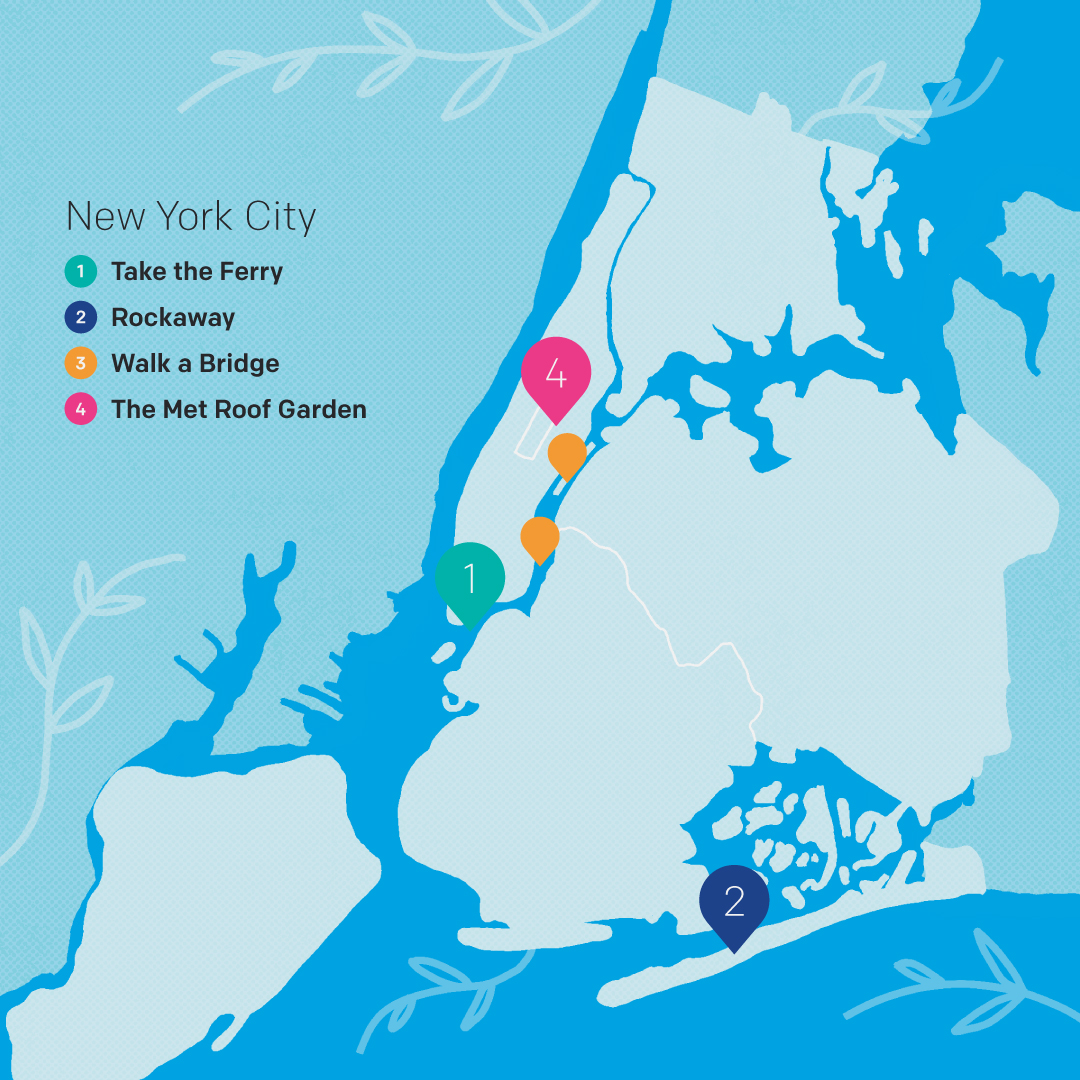 New York, by VP of Business Development Steven O'Brien:
Take the ferry and make the journey part of the fun. The NYC Ferry has dozens of convenient stops to get you between Manhattan, Brooklyn, Queens…and now the Bronx! It's the same price as the subway, but way cuter with stunning views and beautiful breezes. Just counting down the days until the bars on the city sea vessels reopen, so we can also enjoy some ferry rosé during the ride.
Escape to the shore, while still within the city limits of NYC. Rockaway is perfect for a summer beach day (Jacob Riis Park boasts big beaches, fabulous vendors and laid-back vibes.) There are also tons of great restaurants and bars to explore like local faves Caracas Arepa Bar (fish tacos!), the newly built bohemian-chic Rockaway Hotel and Rockaway Brewing Company. Rockaway bonus: You can take the NYC Ferry from Wall Street to Rockaway in less than an hour!
Walk a bridge to earn your brunch! As sacred NYC brunch moments make a return, add some extra daily steps by brunching next to a bridge! It's a great way to explore some new parts of NYC and also help save on Uber expenses. Try walking from Manhattan over the 59th Street Bridge to Long Island City for brunch at Top Quality (a new Mexican spot with a fab patio and delicious food) or Communitea (a neighborhood staple, also with a patio.) And check out Gantry Plaza State Park on the East River while you are in the neighborhood! From Brooklyn, walk over the Williamsburg Bridge for brunch at Dudley's in LES, and sip a mimosa while people watching on Broome Street.
Make the museum your own! For the first time in my adult life, I've enjoyed some museum visits without 1) waiting in an annoying line, 2) being accosted by swarms of school trips and 3) side-eyeing tourists for questionable museum behavior. Use this very special time to enjoy any one of the world-renowned museums in NYC, sans crowds! My forever fave is The Met. Make sure to see the latest art installations on the Roof Garden and end your visit with a stroll through Central Park.
---
For the latest news and updates, follow PHM on Instagram, LinkedIn, Twitter, and Facebook.
Questions? Thoughts? Ideas? Contact us.